Guangdong Sihai Iron-Printing and Tin-Making Co.,Ltd
Manufacturing Empty Aerosol Tin Cans & Aerosol Components & Printed Tinplate.
Empty Aerosol Tinplate Cans can be used for different usages of package products,
like chemical and personel care products.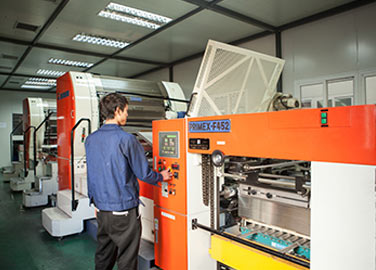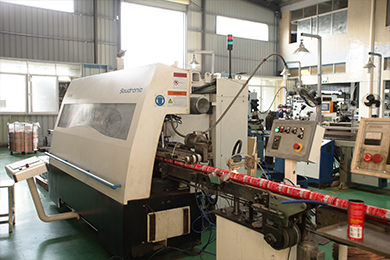 Diameter 57mm Empty Aerosol Tin Cans with Printing for Automatic Cleaning Product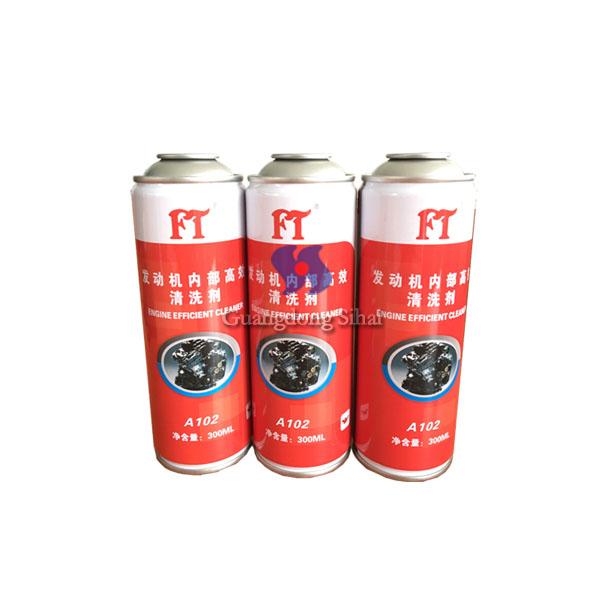 Size: Diameter 57mm
Height: 100-240mm
Material: Tinplate
Printing: CMYK colors (as your designs)
Thickness: 0.20mm tinplate for Cans Body
0.28mm tinplate for Cone
0.28mm tinplate for Dome
MOQ: 30000pcs
Pressure: 1.35Mpa for Bucking,1.50Mpa for Bursting
Packing: Cartons & Pallets
Aerosol Spray Can Use for:
1. for car care series (spray paint, carb cleaner, tyre wax, lubricant and so on),
2. for household products (air freshener, insecticide, leather care and so on),
3. for personal care products (deodorant spray, shaving foam, hair spray and so on) ,
4. for holiday products (snow spray, silly string, and so on) ,
5. for industrial products (fire extinguisher, gas lighter, mould release agent, anti-rust agent and so on).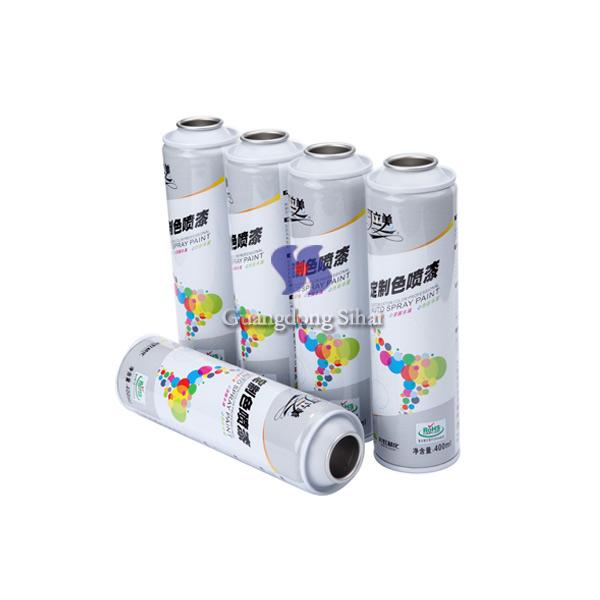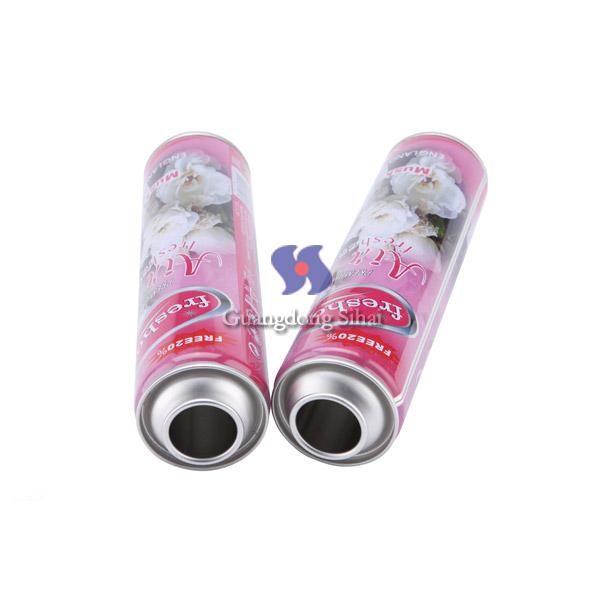 Production & Delivery time:
About 12- 15 days for a 40HQ container, urgent orders can be negotiated. Please confirm the designs correctly and pay the deposit soon.
Payment Term:
a:EXW Guangzhou Sihai Factory:T/T 30% as deposit,70% paid before delivery.
b:FOB Shenzhen & Guangzhou:T/T 30% in advance,70% against the copy of B/L.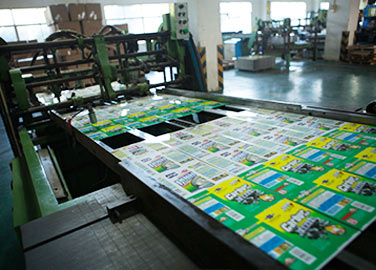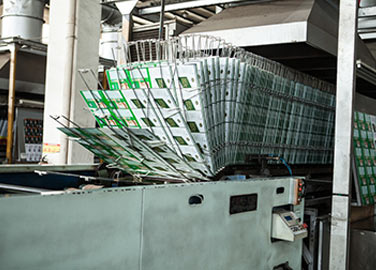 About Guangdong Sihai
Guangdong Sihai Tin Cans Factory was established in 1998,which was already 20 years. Our factory can manufacture and sell empty aerosol tin cans and aerosol components and printing tinplate. Our factory have Iron-Cutting workshop and Iron-Printing & Coating workshop and Cone & Dome Pressing workshop and Tin Cans Making workshop and warehouse. We have about 250 staff to work together with high and professional manufacturing skills.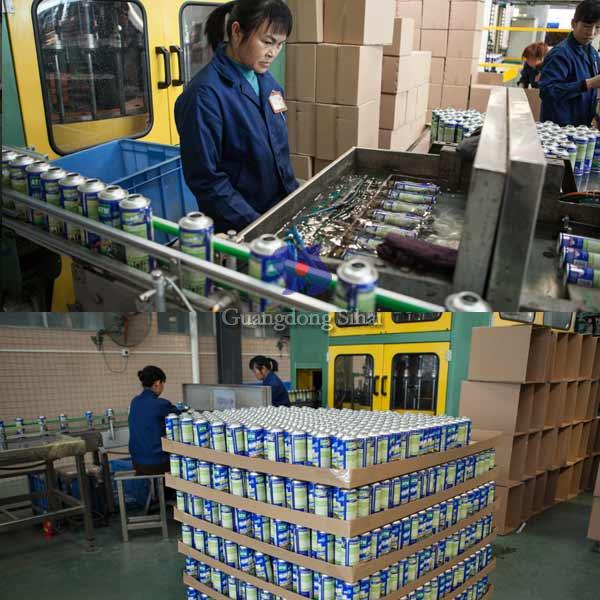 Workshops:
Tinplate Cutting Plant
Tinplate Printing Plant
Tinplate Coating Plant
Printing sheets Cutting Plant
Cone & Dome Pressing Plant
Can Making Plant
Warehouse
10 production lines of can making
6 production lines of tinplate printing
13 production lines of Cone & Dome Pressing
2 production lines of tinplate cutting
Empty Aerosol Tin Cans Sizes
| | | | | |
| --- | --- | --- | --- | --- |
| Diameter(mm) | Type | Pressure | Height(mm) | Printing |
| 45mm | Necked-in | Normal Pressure | 85-185 | 4 colors & Inner coating |
| 45mm | Necked-in | High Pressure | 85-185 | 4 colors & Inner coating |
| 52mm | Necked-in | Normal Pressure | 100-240 | 4 colors & Inner coating |
| 52mm | Necked-in | High Pressure | 100-240 | 4 colors & Inner coating |
| 57mm | Necked-in | Normal Pressure | 100-240 | 4 colors |
| 60mm | Necked-in | Normal Pressure | 100-210 | 4 colors |
| 60mm | Straight-Wall | Normal Pressure | 150-240 | 4 colors |
| 65mm | Necked-in | Normal Pressure | 100-300 | 4 colors & Inner coating |
| 65mm | Necked-in | High Pressure | 100-300 | 4 colors & Inner coating |
| 65mm | Straight-Wall | Normal Pressure | 100-240 | 4 colors |
| 70mm | Necked-in | Normal Pressure | 100-240 | 4 colors |