Guangdong Sihai Iron-Printing and Tin-Making Co., Ltd.
A Manufacturer of Aerosol Tin Can in Guangzhou
" Big Munafacturer "
Our company covers an area of 55,000 m . We can manufacture 6 sizes of aerosol cans namely diameters of 45mm,52mm,57mm,60mm,65mm,70mm. Our products include necked-in tin cans,straight tin cans,normal pressure tin cans and high pressure tin cans.have a height range of 80mm to 310mm.
Product's detail: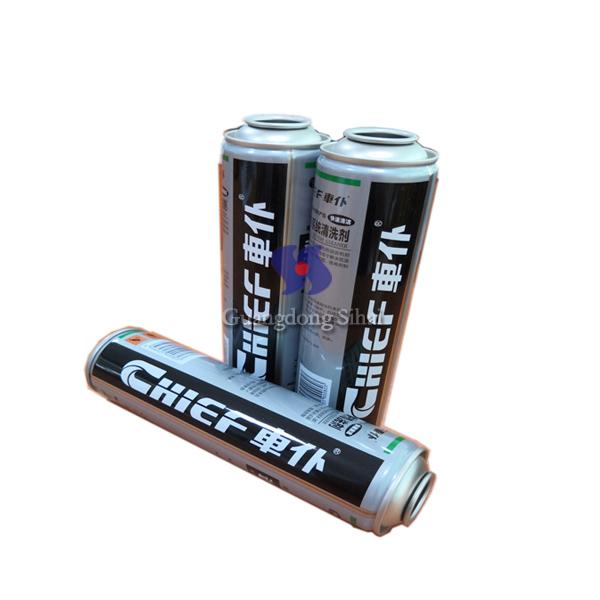 Size:diamter52*165mm
Type: necked-in
Material:tinplate
Printing:CMYK printing (outside) / plain (inside)
Buckling Pressure : ≥1.2Mpa
Burst Pressure : ≥1.4Mpa
Usage:car care products
Our normal products:
Type
Necked-in can/straight wall can
Height
80-240 mm
Diameter
Φ 45/52/57/60/65/70 mm
Thickness for can body
0.18/0.19/0.20/0.21mm tinplate

Thickness for

cap & buttom

0.28/0.32/0.35/0.40/0.43mm tinplate
Tinplate Can Usage
empty tinplate can for hair spray, air freshener, anti-fogging agent, shaving foam,prefume spray, paint spray , some car care chemicals and so on
Printing
four colors(CMYK) printing/spot colors
Pressure

Deformation pressure:≥1.20 Mpa /≥1.80Mpa Burst pressure:≥1.40 Mpa /≥2.0Mpa
Different Types of High Pressure Cans for Your Choice
We can offer you high pressure cans of sizes like diam 45/52/65mm.compared with
normal pressure cans, high pressure ones can reach 1.8Mpa as buckling pressure
and 2.0Mpa as burst pressure. They have more applications in more fields,such as
to refill r134a refrigerant. aerosol sterilizing spray