To celebrate the arrival of Mid-Autumn Festival, Sihai team got a party in Sihai factory office building on Sep 5th, 2019.

Each August 15th is Mid-Autumn Festival for Chinese. It is a traditional Chinese festival since Tang Dynasty, on that day, family and friends will give a party to enjoy moon cakes which symbolize reunion. It is as popular and important as Chinese Spring Festival and Dragon Boat Festival. To welcome the arrival of festival, Sihai staff got a special party on Sep.5th.

Being the No.5 Aerosol can manufacturer located in Guangzhou, China, Sihai got more than 21 years rich experience in producing empty aerosol tin cans, printing tin proofs, and aerosol can components. More than 50% of Sihai staff works for Sihai for more than 10 years, and they already become a whole family.

Through the party, Sihai staff make delicious foods by themselves, and they got a Prize quiz activity, singing and dancing performance, everybody of them spent a wonderful time in the party.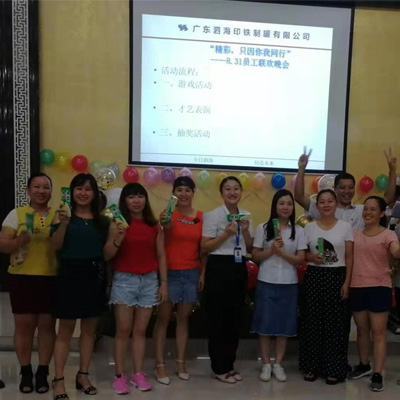 Mr.Jingpei, Huang, CEO of Guangdong Sihai, gave a representative speech to thanks every body hard working and great passion for the progress of Guangdong Sihai. During 2019, Sihai got a large upgrade of our machines, and get special training for the whole team of full marketing concept, also we gave systemic-overall trainging to QC team to meet the pace of times.

Now Sihai applied D.O.T. certificate for USA , Canada and Mexicocustomers also.
We welcome your joining with us!