As we all known, aerosol products combine convenience of use, various possible applications and high performance. Thanks to these features, a steady increase in their sales is observed on the global market. An integral part of the aerosol product is its packaging. As the size of the aerosol market opens the gate for innovations, packaging components' manufacturers try to develop packaging in both construction, material, technological and marketing directions, to get the bigger share of worldwide aerosol market.
According by the statistics from Aerosol Committe of CPF, from 2007 to now, China aerosol production are increased at a healthy rate.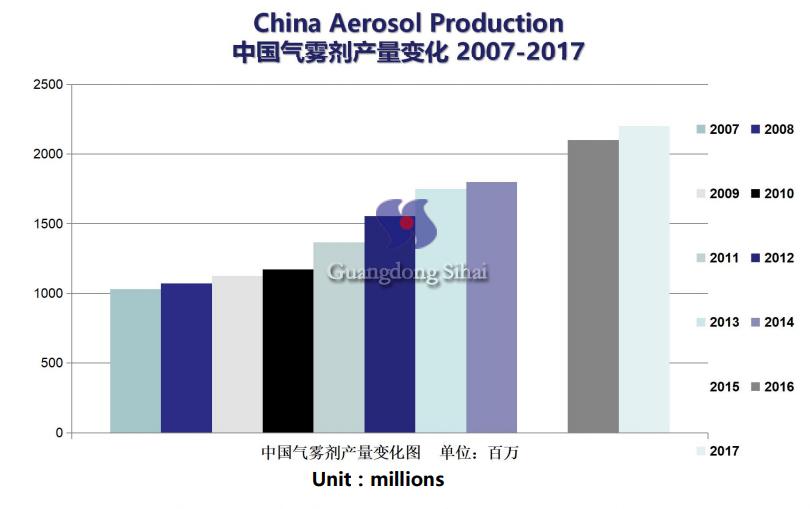 Statistics from Aerosol Committe of CPF
The Comite Francais des Aerosols (CFA) recently released the 2018 aerosol filling statistics for France. Overall, aerosols were filled to a 1.5% volume increase in 2018 over 2017, with 696 million units filled.
For specific industry segments, personal care aerosols saw an increase of 3.5% for a total volume filled of 444.6 million units. Homecare aerosols saw a 17% increase for a total volume filled of 62 million units. Sub-categories pharmacy and veterinary products, as well as food and miscellaneous were down, but cars and bikes, paints and varnishes and industrial and technical saw a 17.6% filling-volume increase in 2018.
All these data shows a bright future for aerosol industries——aerosol packing and filling. And all these reports refers to innovation being a growth stimulator, particularly the "continuous process of improving aerosol dispensers" .
We, Guangdong Sihai, the year before last, launched a type of products with new technology which improve the safty of aerosol packing. Pressure relief aerosol cans, to some degree, enhance the safty rate by the bottom special technology than the ordinary one.
For more information, pls contact us as bellow.